Pumps/Dispenser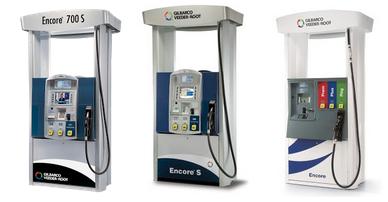 This Hands-On class will cover Encore 500/500S/700S, Eclipse and Advantage pumps/dispensers. LON based CRIND, Flexpay II for Encore/Eclipse and Advantage, TRIND, Cash Acceptors. Each Tech attending will use their laptops to load software into an Encore and load Encrypted Pin Pads.
Tools Required in the Classroom
Laptops computers with an Ethernet port and RS232 port/converter. Techs will need to connect to the Internet either wired or wireless. The tech will need to have the ability to install a program to their laptops (will not work with Vista) and possible change network settings. Administrative rights will be needed. Small hand tools will also be needed in the classroom.

Class Information
This 6 day Hands-On class begins Monday morning at 8:00am CST. Lunch break is at 11:30am and class ends at 5:00pm, but could go longer. Saturdays class will end at 3:00pm. The final written and practical test to be done Saturday afternoon. Please schedule travel plans accordingly.
6-Day Class
Prerequisite: 6 months Service Station Field Experience, GVR Technician number with a valid GVR Fueling Site Safety certification GVR ASC, CSC Technicians
$2600.00 per Technician with ELECTRONIC manuals (Includes class day's lunch) Every Technician must also bring a Lock-Out/Tag-Out kit (as in Granger catalog # 5U714 or similar).
All technicians MUST have a valid GVR "Fueling Site Safety" certification
Online material must be completed and passed before attending the Hands On class. Laptops will be needed in the classroom during the class. Cables will be supplied to each Technician's to keep for communicating to Encore.

After class daily tests will need to be completed.
New Technicians that DO NOT have a Technician number through Gilbarco Veeder Root must fill out the form at https://www.gilbarco.com/trnorder/start.cfm


Class begins at 8:00am CST Monday Morning
February 20/24, 2017
April 10/14, 2017
June 5/9, 2017
August 7/11, 2017
September 18/22, 2017
October 23/27, 2017
December 4/8, 2017
Classes can be added for 3 techs or more.